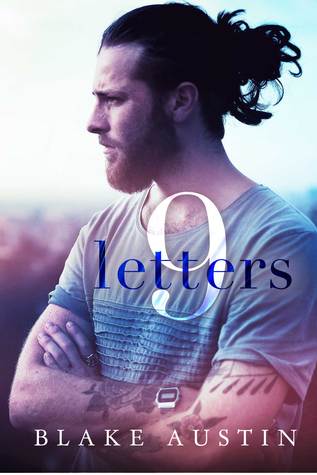 Luke Cawley is a broken man. After his wife's tragic death, he lost everything that mattered in the world. Now, his life is filled with hard days, harder nights, and a steady stream of alcohol and the wrong kind of women. Nothing helps.
Until the letters arrive on Luke's doorstep.
Nine envelopes. Nine messages. Nine chances to find his way back.
Rae Goode is looking for the real thing. After fighting her way out of a string of bad relationships, she's ready for something different--something true.
She meets Luke while piecing her life together, and right away she can tell that he's different. Drawn together by fate and the desire to heal, Rae and Luke discover new ways to mend their broken hearts--one letter at a time.
Discover Blake Austin's debut novel of loss, redemption, and ever-enduring love.
4.0 HEARTFELT STARS!!!
April 15th, when those eyes had shut forever, was a date burned into my brain deeper than September 7th, our wedding, or September 28th, her birthday.
9 Letters by Blake Austin is one of those books that really touched my heart. Written entirely in Luke's POV made it even more heart wrenching and I sniffed right from the start because hell I feel every emotion. I feel all the pain. Ahhhh... I even have thought of not finishing it up, see I started reading this days ago but I just finished it now, it's not because I don't feel like reading this much more like I am afraid what's waiting for me and what's written in the book. I really don't think I can do it but I manned up..put on my big panties and there after several days I just did it!
"Emily died in the springtime. Nobody should die in the springtime, but least of all someone so alive. Now I dreaded the warmer days , the green of the season . The memories were too strong."
Luke Cawley has been broken after her wife's tragic death until that day...that day of Emily's death anniversary that somehow changes his constant alcohol companion...wrong kinds of women. The package that awaits at his doorstep....
I wanted to never open them. I wanted to always have them , in case I needed them, unopened and waiting. I wanted to read them at ninety on my death bed, so I could drink in Emily's thoughts, one last time, before pneumonia took me to meet her in heaven.
The 9 LETTERS that he never expected but brought a light to his darkened life. 9 LETTERS with specific instructions and tasks to help him go through with his life...
"When everything's dark for so damn long and your eyes get used to it," I said, "just a little glimmer of sunshine lights up the whole world."
Overall, this book is really good. So touching..bittersweet in a way because hell who would have thought when finally you found THE ONE then was just ripped in to you and made you broken. I Love the uniqueness of this storyline. I admit, I don't feel much connection to Rae here because it seems that the focus was almost entirely with Luke and Emily but as much as I wanted more interaction from them , it was okay for me that it was written that way.No insta-love...sure there was this physical attraction but the process of healing and mending of broken hearts was delivered well.
Really, this book of loss...redemption and ever emduring love by Blake Austin is a must read. So if you're an emotional book lover, this book is for you.