When Life Happened, an all-new standalone romance from
Jewel E. Ann is available now!
When Life Happened by Jewel E. Ann
Publication Date: June 5th, 2017
Genre: Contemporary Romance
Parker Cruse despises cheaters. It might have something to do with her boyfriend sleeping with her twin sister.
After a wedding day prank involving a strong laxative, that ends the already severed relationship between the twins, Parker decides to grow up and act twenty-six.
Step One: Move out of her parents' house.
Step Two: Find a job.
Opportunity strikes when she meets her new neighbor, Gus Westman. He's an electrician with Iowa farm-boy values and a gift for saying her name like it's a dirty word.
He also has a wife.
Sabrina Westman, head of a successful engineering firm, hires Parker as her personal assistant. Driven to be the best assistant ever, Parker vows to stay focused, walk the dog, go to the dry cleaners, and not kiss Gus—again.
Step Three: Don't judge.
Step Four: Remember— when life happens, it does it in a heartbeat.
Read Today!
Add to GoodReads: https://goo.gl/2Nkk9h
This story snuck up on me like a thief in the night! I was expecting a laugh out loud storyline with my morals being compromised because who doesn't love that? I was expecting to say goodbye to what I consider as a "normal" read. I was expecting a little bit of angst and a whole bunch of scorching sexiness and I'm happy to report that I got all of those things. But do you know what else I got? A mini fucking stroke that left me wondering if I was seeing things that weren't there.
"Not a all truths set you free, not all lies are deceptions. "
Imagine having a twin sister that you love more than life itself. Can you picture it? Now imagine she does the most unforgivable thing known to man kind and after a bad experience with laxatives, your relationship with her is no longer existent. That's a reality for Parker Cruse and after deciding to finally take control of her life and move out of her parent's house, she's now on her way to adulthood. Hey, no one ever said being a grown up is easy.
Having new neighbors shouldn't be a big deal when you move but having a very hot married neighbor on the other hand? That's a MAJOR problem or as I would like to call it, a train wreck waiting to happen. Gus Westman is funny, strong, protective and any woman would be so lucky to call him her husband. It's funny how those seven letters can make you swoon and cause heartbreak at the same time doesn't it? Because Gus already belongs to someone and looking at his new neighbor no matter how gorgeous she is doesn't change the face that he's married. Being a good guy has always been what worked for him and temptation is just going to have to take a back seat no matter how much it keeps throwing up those red neon lights in Parker's direction. For better or for worse and all that jazz. But for how long?
"I'm afraid of having everything that means nothing and nothing that means everything.
I really can't say how much I loved this one and how each character was portrayed. Sure some of them were hot messes and made you feel like your life is celebrity status, but the rest of them were just real and genuine and you couldn't help but feel for them. Seeing that this is my very first read by this author, (I know I'm crazy) and knowing that this was told from a 3rd persons POV, It didn't take long for me to fall in love with everything.
Now you're probably saying: Hey if you loved it so much, why not 5 stars? Well aside from the fact that I'm an extremely picky bitch, there was a mother of all plot twist that just broke me! I'm not talking a little bit of a twist that would steer the story off a little bit, I'm talking:⬇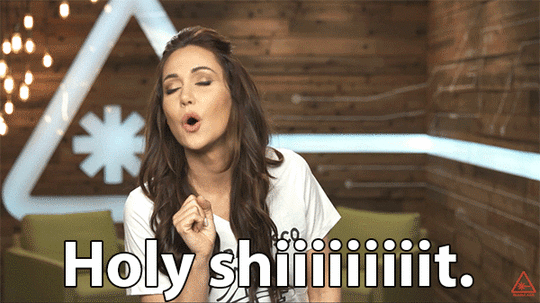 I literally had to reread an entire chapter and message my reading buddy Kat to drop some f bombs. I will say that she warned me though but she needed to send me a S.O.S with a police escort! I did not see that coming and for that, I really do need to applaud this author for going there. Sometimes these books are so damn predictable so for her to give us the element of surprise, was refreshing.
So with this review all over the place, know that this is one story that you cannot afford to miss. DO NOT read any spoilers, DO NOT go searching for any teasers that you think would be a spoiler, and please for the love of Ed Sheeran, just read the damn book
"You … you tried to seduce me." Anger fueled her fight, overriding how terrified she felt being feet from naked Gus. He laughed. That fed her anger even more. "I wasn't seducing you. I was making a point." He slipped on a white T-shirt. "Bullshit. I was there." "Precisely. Then you should know that I wasn't seducing you." He grabbed her shoulders and steered her away from the entrance to his closet. She turned, relieved to find him dressed. "I
felt
you." Her eyes narrowed. He smirked. "You did, did you?" Heat spread up her neck and burned her cheeks. Discussing Gus's erection in his bedroom with Sabrina out of town qualified as the most inappropriate conversation she had ever had. "You're such an ass. Just tell me why?" Twisting his lips to the side, he narrowed his eyes. "You're young. You think the world is so black and white. In your fairy-tale world, love is a magic wand spreading trails of glitter and granting happily ever afters." Parker stepped closer, knowing the lion could pull her into his den. "I don't believe in fairytales." "No?" He shrugged. "Then I guess I made my point." "I don't get your stupid point!" Her fingernails dug into her hands as she clenched them. Gus leaned forward, putting them at eye level. She held her ground, even though his proximity made her body tremble. "Someone cheated on you. And you're so fucking mad about it because you can't understand it. But love is an emotion that resides in your head and your proverbial heart. It has to be nurtured to grow or it dies.
But
… desire … it's instinctual. Physical.
Carnal
. And when it wants its way, your brain shuts down and the only heart you hear is that blood-pumping organ in your chest. A slave to your
desire,
readying your body to do
one
thing and one thing only …" He leaned into her ear and whispered, "Get. Off." August Westman proved he was the devil. Parker became the worst possible version of herself in his presence. He drugged her with his words, pulled her under with his confidence, and stole her innocence with a whisper.
About Jewel:
Jewel is a free-spirited romance junkie with a quirky sense of humor. With 10 years of flossing lectures under her belt, she took early retirement from her dental hygiene career to stay home with her three awesome boys and manage the family business. After her best friend of nearly 30 years suggested a few books from the Contemporary Romance genre, Jewel was hooked. Devouring two and three books a week but still craving more, she decided to practice sustainable reading, AKA writing. When she's not donning her cape and saving the planet one tree at a time, she enjoys yoga with friends, good food with family, rock climbing with her kids, watching How I Met Your Mother reruns, and of course…heart-wrenching, tear-jerking, panty-scorching novels.
Connect with Jewel:
Twitter: @JewelE_Ann
Stay up to date with Jewel by signing up for her newsletter: