Series: Closer #1
Author: Mary Elizabeth
Genre:
Contemporary Romance/New Adult
Release Date: December 6, 2016

Gabriella Mason is damaged.

Teller Reddy is wrecked.

Misery loves company, and that's exactly what Ella gets the afternoon her path crosses with Teller's: the misunderstood premed student who instantly becomes her lifeline when she moves to Los Angeles, an attempt at escaping her heartbreaking past.

In the beginning, Lonely and Defensive complete each other. But in the end, their relationship is like broken glass—cutthroat and jagged.

Calling it off before they kill each other, Ella and Teller decide to "just be friends" despite the intensity that binds them together. It's a delicate foundation rocked by tragedy, effectively destroying the illusion they've so carefully built.

Unable to deny what's between them any longer, this is what happens when wrecked and damaged collide and close is still not close enough.
If you follow my reviews then you know that cliffhangers and I are not friends. I can't stand that hoe! and just thinking about it makes me EXTREMELY stabby. So here I am, enjoying the shit out of this book, I've got my feet up, popcorn on the side and a nice cool drink. Everything was so good, I started to get comfortable and you know what happens when you get comfortable? A bitch comes knocking on your door scaring the crap out of you. That scare ladies and gentleman was none other than that cliffhanger hoe I told you about! So here she comes with her unstable ass telling me she's going to spike my blood pressure because she doesn't like me either.
Seven years ago Ella's fate was sealed when she met the tatted up med student known as Teller on her first day of College. Being in a new City with no friends, her relief was evident when he decided to be her tour guide and new friend. What starts off as a genuine friendship quickly becomes a tumultuous and passionate obsession that neither of them could quit.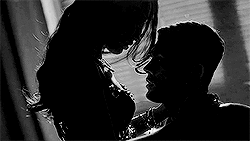 "This is us, crazy out of our minds, obsessed with the thrill, and willing to break each other just to lick madness."
Throughout his life, all Teller has been told was to walk in his father's footsteps and become a doctor. Fortunately for him, he loves that occupation and his determination to be the best at his job is what drives him. He knows what his future is going to look like and it's going to be filled with nothing but long hours and lack of sleep for the time being. Falling for the quiet brunette that will turn his world on it's axis wasn't a part of his plan but you know what they say about those. DON'T MAKE THEM.
This story goes from past to present and while that's not really my style, It was extremely necessary for this story and I loved it. Teller and Ella's relationship was catastrophic and at the beginning I found myself confused because I didn't know how much of a train were until I read their past. When those two were arguing? All the good China, electronics and sharp objects had to be removed ASAP. They were reckless, stubborn, unforgiving, but they were so damn passionate and loving with each other that it made me forgive them quickly.
"For seven years, she's been everything to me. For the last seven years, I've taken what I can get from her and stolen what I could not. No matter the consequences, Gabriella Mason is who I have always wanted - needed -most."
Although they tested my patience made me want to start to drinking for the duration of the story, I wouldn't have it any other way. I love stories that makes my heart race and leaves me on the edge of my seat, and when you factor in the angst level, I was in heaven!!"Let's stop Hurting Tonight" by One Republic was on repeat when I finished this story because the lyrics have never been more true when it came to Ella and Teller's journey.
Now as for the cliffhanger, I will be having a conversation with this author! I need a stress ball, valium, and top shelf liquor in that freakin order. If you love a whole lot of angst in your stories, this one is most definitely for you.

Mary Elizabeth is an up and coming author who finds words in chaos, writing stories about the skeletons hanging in your closets.

Known as The Realist, Mary was born and raised in Southern California. She is a wife, mother of four beautiful children, and dog tamer to one enthusiastic Pit Bull and a prissy Chihuahua. She's a hairstylist by day but contemporary fiction, new adult author by night. Mary can often be found finger twirling her hair and chewing on a stick of licorice while writing and rewriting a sentence over and over until it's perfect. She discovered her talent for tale-telling accidentally, but literature is in her chokehold. And she's not letting go until every story is told.