Born, Darkly
Trisha Wolfe
(Darkly, Madly Duet, #1)
Publication date: September 19th 2017
Genres: Adult, Contemporary, Romance
He challenged her sanity.


She shattered his reality.
They dared each other…to the brink of madness.
A dark and twisted maze awaits criminal psychologist London Noble when she falls for her patient, convicted serial killer, Grayson Pierce Sullivan. As she unravels the traps, her sanity tested with each game, she's forced to acknowledge the true evil in the world around her.
—
"A smart man once told me the wait for something to happen can drive a sane man mad. And this place is full of madness."
HOLY SHIIIIIIIIIT!! What type of fuckedupness did I just get myself into?! I feel like I was taken on a crazy ride with no stops in sight and all I want to do right now is just drink! No seeing a therapist for me because after reading this story, I'm staying the hell away from anything that has an office and every other human being in sight. My head is spinning with so many questions right now, I can't even articulate what I want to say without dropping some much needed F bombs. Seriously, What. Did. I. Just. read?!
Dr.London Nobel is a brilliant psychologist. Her work has been featured and taught in some of the best classes in understanding the mind of serial killers and how they operate. Putting her career first has always been a driving force for her because like most of us, it's an underlying distraction from something much bigger in her personal life. On the outside, this woman is a force to be reckoned with her designer suits and flawless appearance, but underneath that, is a painful past that not only has it's bearing on her emotionally, but physically as well.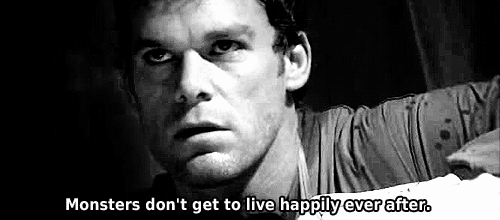 "It's strange what impacts us. People don't remember the good. They remember what guts them."
Helping convicted serial killers try to understand themselves a little better and find out what makes their compulsion to kill is why Dr. Noble is the best at her job. Getting a new patient wasn't in the cards for her but when she realizes it's the infamous killer Grayson Sullivan, London knows that there's no stopping what is about to happen. There's this saying that if you so no evil, you hear no evil and let me tell you, that is a bunch of bull. I saw evil in this story and I damn sure heard it so that saying needs to go sit in a corner right now and take a nap.
"I want to break you, so I can piece you back together".
There was so much that meets the eye when it came to these characters and knowing that there's a darkness looming ahead, will make you literally eating out the palm of their hands in your quest to find answers. For fear of spoilers, I won't be going into full details about Grayson Sullivan but what I will say is that some people are crazy with sociopath tendencies, and some are just certifiably insane and I have no clue what category Grayson falls in but I LOVED him! So on second thought, I think I will be needing that therapist after all.
This man should've made me sick to my stomach with his past transgressions but there was so much more to him. There was a why to every reason and he took us on this insane merry go round journey that was filled with shocking behavior, vigilante justice, and missing puzzle pieces that we never even knew was lost. I'm still trying to wrap my head around what happened and quite frankly, I'm a bit of a hot mess right now.
This story was brilliant in every sense of the word and the author did something so extremely different. She made her readers work for the answers. I've never read anything like this and even though I'm confused as hell right now and livid with the cliffhanger, I still have to applaud her in thinking outside the box and making this story so damn addictive. This is by far one of my favorite reads of the year and I won't be telling you that I think you should read it. You NEED to read it!! NO EXCEPTIONS
Author Bio:
From an early age, Trisha Wolfe dreamed up fantasy worlds and characters and was accused of talking to herself. Today, she lives in South Carolina with her family and writes full time, using her fantasy worlds as an excuse to continue talking to herself.
For more information on Trisha Wolfe and her works, please visit: www.TrishaWolfe.com
To be the first to hear about new releases and sale events, sign up for Trisha Wolfe's Newsletter: http://bit.ly/1rXTKI7