New Release - Two is a Lie Book 2 in the Tangled Lies series
Two lies. Two men who don't share.
I never stopped loving Cole. Not when he left me. Not when he disappeared for three years. Not when he crashed back into my life in a violent explosion of testosterone and fury. His sudden reappearance questions everything I thought I knew, including how I came to love another man.
Trace is an intoxicating breeze of seduction over ice. My rock. My second chance at forever. And he's committed to annihilating the competition.
The battle that ensues wrenches me back and forth between them. Fighting and fucking. Resisting and submitting.
Together, they entangle me in a web of lies, rivalry, and desire that weaves as deeply as their devotion to me.
I love two men, and if I can only have one, I choose none.
---
The conclusion is coming soon!
---

"Nothing good can from being with a woman who loves two men.
There's plenty of reasons why I avoid love triangles like the plague. Number one, I don't like the way I feel when I'm reading them and it's not the reason you think. Sure there's a slight amount of guilt because you know that the situation is not ideal and someone is going to get hurt but for me, this crap makes me certifiably crazy!! All of my emotions come out at full force and I have to keep my temper in check while simultaneously chugging all of the good wine. So with that said I try my best to avoid these kind of stories but for some unbeknownst reason, this series made me break all of the rules and I knew what I was getting myself into and I was fine with that. But do you know what happened to me?
I found myself CARING about some of these characters and wishing they would get their act together so that they could finally have everything they've ever wanted.
I found myself feeling SYMPATHY for what they went through and the lengths they took just to make it back to some sort of normalcy and acceptance.
I found myself in an utter fit of indescribable RAGE and disappointment toward these characters and their fucked up and idiotic decisions.
I found myself, in HEARTBREAK.
If you've read "One is A Promise", then you already know that Danni just had her world turned upside down with the return of Cole. Being in love with two men isn't easy and add in the fact that they're the complete opposite of each other and they both make her love differently, it's damn near impossible to choose. So with a plan in place, Danni's hope is that this will make her decision much easier. But you know what they say about plans: they always have a way of changing.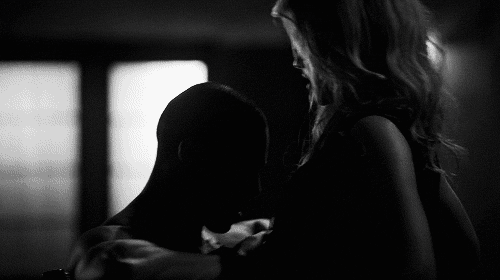 "Loving her is a privilege, one I don't deserve, but it was never a choice. Love isn't a choice.
Due to the serious amount of spoilers, my review is going to end here and the only thing I'm going to talk about is how I felt while reading this book.
It's no secret that I wasn't a fan of Danni in book one even though I deeply sympathized with her. But in this story? I still wasn't a fan and if I'm being completely honest, she was the main source of my drinking problem in this book!! I'm figuring out my alibi, dropping twenty dollar bills in "The Swear Jar", and trying my best not to throw my tablet because my damn warranty just expired. This chick tested me on another level to the point where I was praying this author would do a plot twist and just get rid of her! I have never hated a heroine so much like I did Danni and I know I'm in the minority on this one, but that's just how it is and I'm not going to sugar coat it because she got on my fucking nerves!!
Now for the good stuff which is the men. Even though he's not my choice when it comes to being the chosen one, I really liked Cole's character. He was honest to a fault and I don't think there's anything he wouldn't do to get Danni back and I admired that about him. It doesn't hurt that he's easy on the eyes either but he's really a good loving man that had his world torn from him. Trace on the other hand is EVERYTHING! I don't care how many team Cole's are out there, I'll be the only one waving my Trace flag because he's the shit! The power that he exudes, the swagger, his brooding personality that makes you want to rip his face off while begging him to take you with no holds bar, is the reason why I love that man and he doesn't need to show you why he's the best. He simply is.
So there you have it. My emotions are all over the place in this review and this book made me lose my freakin mind. Don't get me wrong, I really did enjoy certain parts of it and the men made it that more enjoyable but If someone was to ask me if I would go through this again, I would simply tell them with the kindest voice I can muster up. HELL FUCKING NO!! Just kidding. You need to buy me wine first and then we'll talk. If you're looking for an angst book that's going to make you pull all your hair out, this one is for you.
---



What the ever fucking hell did I just read??? Two Is A Lie fucked with my sanity and to be honest right about now I'm seconds away from getting crazy just because of this book! It tested my patience and honestly it took me several hours to convey my emotions into writing that I know will just end up a rambling. So bear with me because I was so stressed out with this book. But please... it's a good stress kind of (insert cheeky grin and grabby hands and dreamy eyes..because Cole and Trace!!!!) I guess because you know, I finished it and I wanted more from it!
Pam Godwin is a new author for me and reading One Is A Promise made me want to kiss her...like french kiss...with tongue and all that because she made an impression that made me nuts big time. I do not usually read books with a heroine I wanted to punch throat and kill slowly but with her words, I rooted for the book. Man, that first book was etched in my system and after that cliffy I could not contain my excitement to start Two Is A Lie. I was thrilled because again, I can't help not to. Pam Godwin's plot in as much as I wanna say I loathed it, I could not deny I was addicted to it. Her words are my drug and no matter how I wanted to get it out of my system it was impossible. It's embedded in me that's why right fucking now I wanna scream so loud and fuck the hell out of it. I was seconds away from saying fuck me in the ass, sideways, HARD!That's how I'm so out of my system righ now. Fuck this book! But no... read this book but at your own expense.
Now, you ask me why? Well, the book is all sorts of a tease, filled with angst that I feel like I was gutted and a lot of emotions I could not explain. All I know was that, reading this made my life hell. I love to read love triangles in a way but this one just tested what little patience I had but again, I love this book and I love Pam's writing. She writes the best book and she could evoke plenty of emotions with her brilliant words.So here I am, conflicted, stressed out yet so excited for the final book and still hang up on the second one. Two Is A Lie is not your ordinary love triangle, it's so much more!
Danni,Cole and Trace's relationship was nothing like an ordinary one. Secrets here and there, questions left un-answered on top of a fucked up decisions and arracngements. But what lies in the middle is who's gonna end up who.
Cole. My first love. My greatest loss.Trace. He's supposed to be my new beginning. My future.
Gahd! I could not even choose between these two men. I was torn in between that all I wanted was please just end our misery and go with a route that will end up everbody happy. Yes, I was rooting for a threesome. Greedy much? Perverted much? But no... when you read this book you'll understand where I'm coming from. I pained for both of them. I feel like my heart was wrenched. I did not know if I'm gonna scream or just go with the flow. Their arrangement wasn't easy but I could not deny it made the story edgier. The sexual tension at it's peak. It made my emotions into topsy turvey. That's why, I live for books like this, I love the angst it brings, I am looking forward to whatever painful and gutted scenes it will bring me. But Pam wasn't giving me any other choice but be greedy with her hero's. I want both men to Danni. I hate to choose because there was no choice at all. I may hate Danni, because I really do admit this woman was testing my sanity, her rules fucked with my head but I needed her HEA too. More than that, it was her imperfections that made me even more addicted to this book. I keep on turning the pages looking forward to her decision, seeking answers and wanting for more. But I guess, indeed Two Is A Lie. Loving two men is wrong. But then, Love is Love right?Why not just love them both and the rest will work it out?
But that ending!!!
Holy shitballs I need Three Is A War ASAP!
Overall, I love this book. I enjoyed reading it even with the state I was in right now. Will I recommend it? Hell, YES! I want to you to experience the rollercoaster journey I have with them through Pam Godwin's excellent writing. It's not easy but it was worth your every fucked up emotions! You will not be disappointed with this book but read this with your heart and mind open. It will push your limit, it will not just test your boundaries. In the end, you may feel like your fucked several times in the head but deep down, you know for a fact that this series, this particular book for that matter will make a helluva lasting impression!
One is a Promise
One promise. One forever.
One look and I knew Cole was mine. My dark rebel in leather. My powerhouse of passion, devastating smiles, and impulsiveness. When his job sends him overseas, he promises to return to me. A promise that's destroyed in the most irrevocable way.
Two years later, an arrogant suit invades my heartbroken loneliness.
Clean-cut and stern, Trace is everything Cole wasn't. At first, he's a job that will rescue my dance company. But as he intrudes on my life, our hostile relationship evolves. He knows I'm still in love with Cole, but his dedication is my undoing.
Then a catastrophic moment changes everything.
Promises resurface. Lies entangle. And an impossible choice shatters my world.
I love two men, and I can only have one.
---
Three is a War
Three means war. Three sides vying for forever.
Cole. My first love. The bad boy with the dangerous smile and passionate temper draws attention like a lit fuse on dynamite. But his dark molten eyes spark only for me.
Trace. My second chance. Over six feet of Norse god in a tailored suit, he calculates every move and seizes my hungry breaths with an iron fist.
Me. The free-spirited dancer, torn between two men with no resolution in sight. I tried leaving, staying, refusing, and surrendering. What options do I have left?
I love two men, and I do the only thing I can. I fight.
---
Pam Godwin
New York Times and USA Today Bestselling author, Pam Godwin, lives in the Midwest with her husband, their two children, and a foulmouthed parrot. When she ran away, she traveled fourteen countries across five continents, attended three universities, and married the vocalist of her favorite rock band.
.
Java, tobacco, and dark romance novels are her favorite indulgences, and might be considered more unhealthy than her aversion to sleeping, eating meat, and dolls with blinking eyes.
---
Other books by Pam Godwin