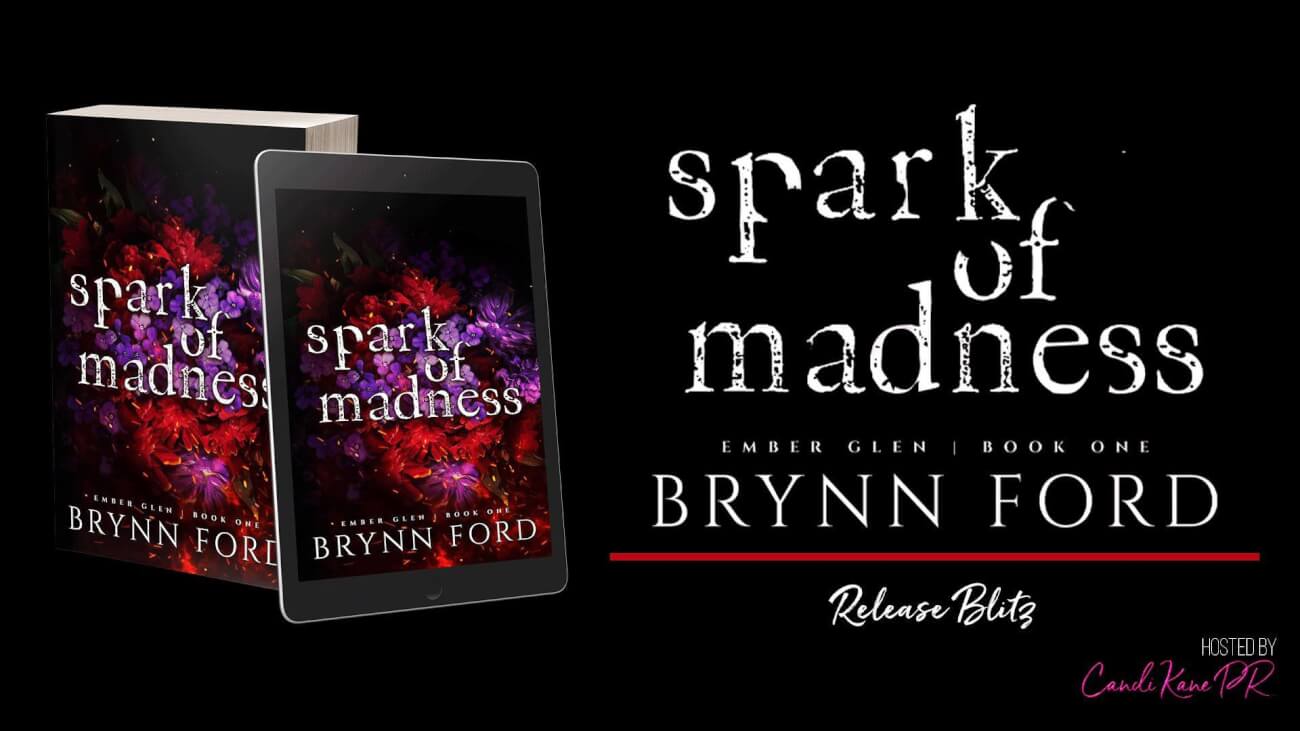 In Ember Glen, men purge under the full moon. It's the duty of women to serve them. When Mercy refuses to serve, Arlo will force her to find absolution through three brutal trials. But will their forbidden romance destroy their world?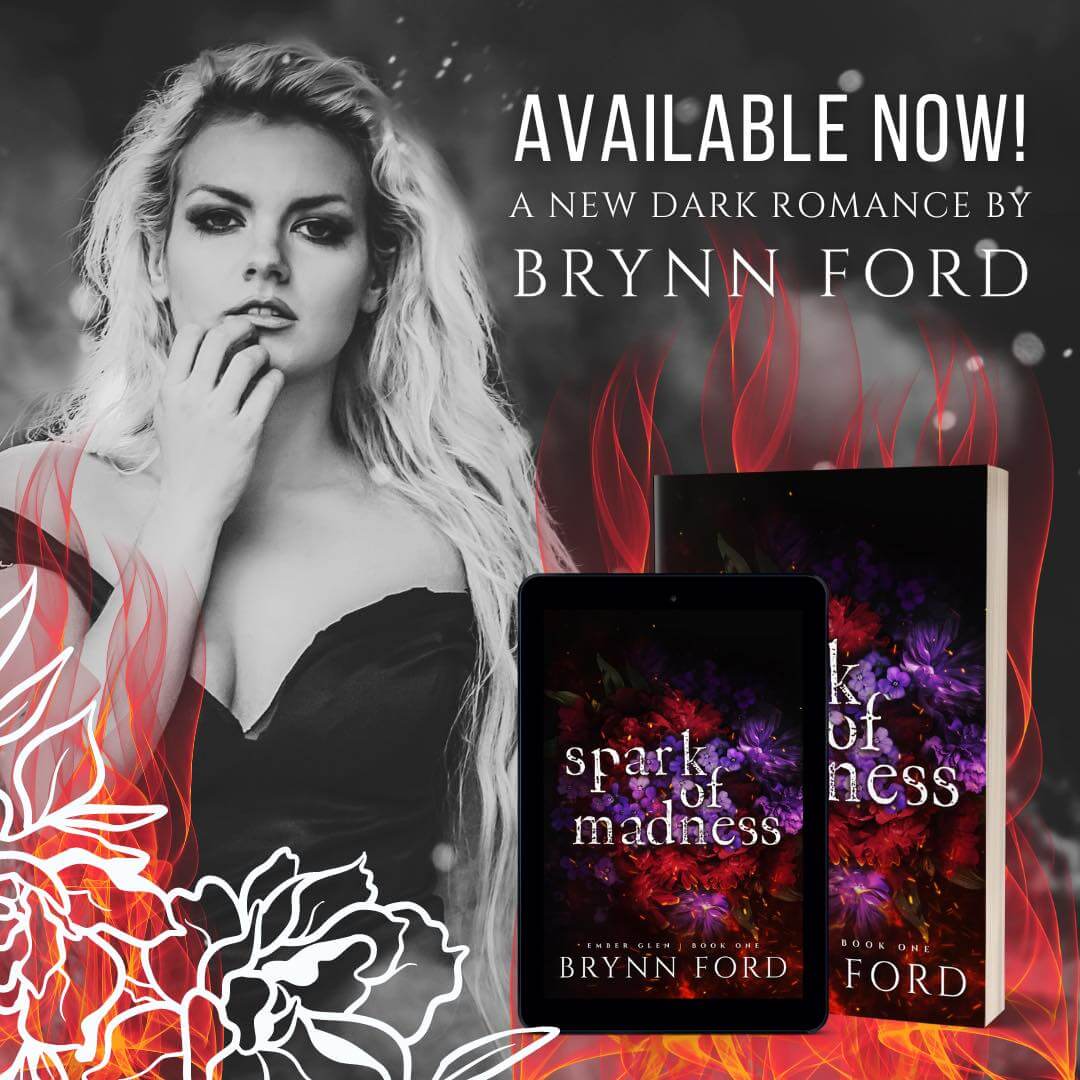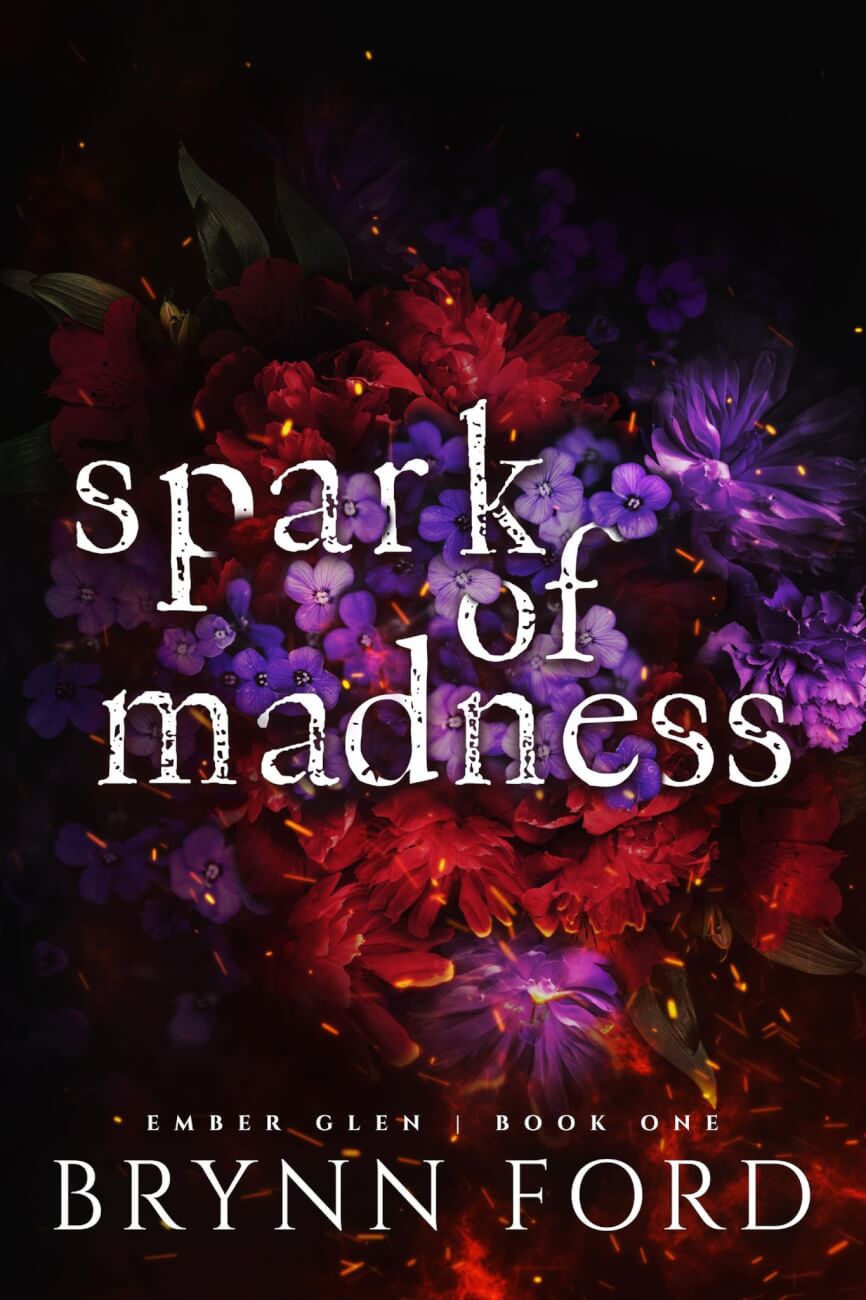 SPARK OF MADNESS
by Brynn Ford
Genre: Dark Dystopian Romance
Neglecting my duty to serve is a sin, and during the last full moon, I became a sinner.
He saw me run from my duty, chased me, and caught me.
He promised me that I would be punished.
But I never could have imagined the hellish fate that would be chosen for me. More than that, I never could have imagined the maddening lust that would spark between me and the man who caught me.
This passion is forbidden…and it might set us on fire.
It's my role to catch the sinners, and Mercy sinned gravely.
I saw her and I chased her, drawn to her inexplicably.
She sparked something within me, but she had to be brought to judgment.
Her punishment is coming in the form of an archaic ritual we're bringing back to make an example of her. I'll be her warden, her keeper, the man to ensure she stays alive between her tortuous trials.
Something within her brings out the worst of me…and the worst of me wants to ruin her.
This is a dark romance series. You can find a list of tropes & triggers at www.brynnford.com/triggers.
Spark of Madness is my first taste of Brynn Ford's work, and I'll definitely be coming back for seconds! I'm always on the lookout for dystopian romance. Sadly, I rarely find any, so when I discovered this new to me author was releasing one this summer, I jumped at the chance to get my hands on it as soon as possible. Not only is it dystopian, but it's dark and forbidden, too! I felt like I hit the jackpot.
Ember Glen is a cultish community run by men that pervert religion to satisfy their own depravity. From childhood, w
omen are assigned to a life as a domestic or a servant. Under every full moon, the men of Ember Glen are allowed to give into their sexual urges and violent tendencies with no repercussion. They are given carte blanche to act out their deviant desires on the servants from the time they become "of age". It's seen as a holy duty, and the servants take pride in serving the community in this way, ...all except Mercy and a young servant named Delle.
I'm sure you have a lot of questions at this point. Why would the community allow this? Why doesn't anyone try to escape? Why do the people believe this is what God wants for them? Why does this ritual happen at all? All these questions and more are answered in the book, so I'm going to let you find out for yourselves. I don't want to be the one to spoil this twisted tale for any of you.
Did I enjoy this batshit crazy story? Yes, I did! Brynn Ford's writing drew me in immediately and held me captive the whole way through. I kept telling myself I was going to put the book down after one more chapter, but that never happened. I devoured the whole thing in one sitting.
Mercy Madness is a character that I felt a connection with immediately. She sees the horror of the situation much in the same way the reader does. Of course, she experiences some guilt based on a lifetime of indoctrination, but she knows that what's happening is wrong regardless. I admired her strength, bravery, determination, and selflessness. There is no way you won't find yourself rooting for Mercy immediately. My heart broke for her and Delle for a multitude of reasons, and I wanted to set the motherfuckers responsible for their pain on fire by the end of the book.
This story isn't for the faint of heart. If you're not a dark romance fan, I don't think you'll enjoy this one. It's pretty fucking brutal, and there is no relief for Mercy and her
young friend in sight. The spark of a "romance" with Arlo is barely that. He is still very much a man of the community from beginning to end. You may feel there is hope for him, but that hope is still small at this point.
If you're looking for a happy ending, you won't find one here. This is just the first book in the series. We have a lot more terror, pain, angst, assault, sex, and violence to go!
If you're intrigued instead of turned off by everything I've said in this review, and a story that's a cross between The Handmaid's Tale and The Purge sounds appealing to you, this is your shit! One click, and buckle up. The ride is going to be a bumpy one!
Brynn Ford is an author of dark and dirty romance for daring readers. She is a lover of the dark, twisted, and playful and strives to bring the unmentionable aspects of passionate romance into her stories.
Brynn lives in the Midwestern United States with her husband and sons, whom she expects will someday be embarrassed by their mom's books. When she isn't obsessively writing, you may find her binge watching favorite shows while eating far too much junk food or fanatically reading, always seeking to lose herself in the emotional roller coaster of a damn good story.
She is quite the idealist despite her fascination with the wicked and warped aspects of humanity. She's a firm believer that her characters continue to live on outside the pages in the minds of her readers. Stories don't just end because there aren't any more pages to turn.
Website: https://www.brynnford.com
Facebook: http://facebook.com/brynnfordauthor
Join Brynn's Facebook Group: bit.ly/brynnsdarlings
Instagram: http://instagram.com/brynnfordauthor
Goodreads: http://goodreads.com/brynnfordauthor
Bookbub: https://www.bookbub.com/authors/brynn-ford
Amazon: http://amazon.com/author/brynnford
TikTok: https://www.tiktok.com/@brynnfordauthor
NL Signup: www.brynnford.com/connect