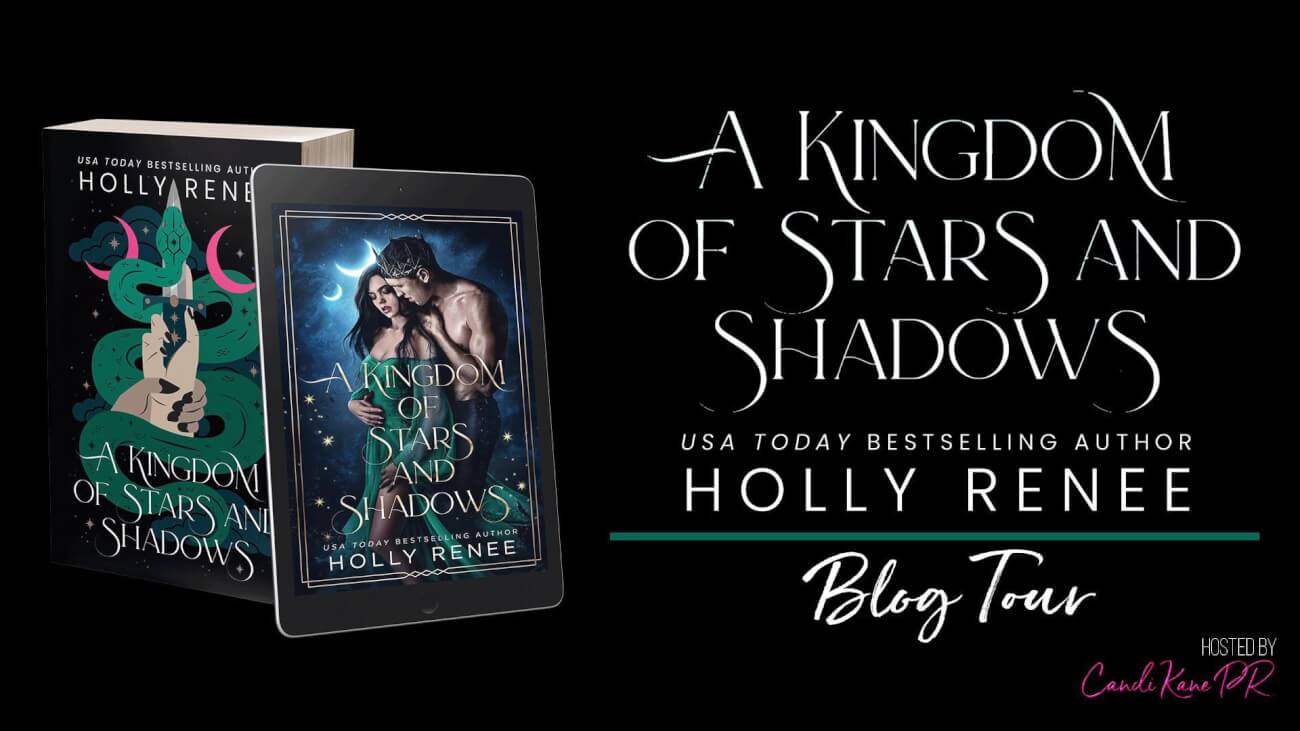 A KINGDOM OF STARS AND SHADOWS
(Stars and Shadows #1)
by Holly Renee
Release Date: July 14th
Genre/Tropes: Adult Fantasy Romance/High Fantasy Romance/Enemies-to-Lovers/Forbidden Romance
Blurb:
Where does your allegiance lie?
I am told my union to the crowned prince will determine the fate of the kingdom, but it isn't my betrothed who haunts my dreams. It's the half-breed prince who stands at his side.
He is darkness and sin, and when he whispers promises of wickedness in my ear, I crave a man who I can't have.
Every thought I have is treasonous. The way my hands ache to touch him deceitful.
Even my dreams make me a traitor to the kingdom I am sworn to protect.
But when the kingdom is attacked, I am forced to make choices I'm not prepared for. Our lies and deception are entangled in the shadows and stars, and as they unravel so shall my fate. Betray a kingdom or betray my heart.
A Kingdom of Stars and Shadows is book one in the Stars and Shadows Series and will end in a cliffhanger.
Holy shit! I don't even know how to begin this review. To say I enjoyed this book is an extreme understatement. Holly Renee impressed the hell out of me with this creative, engaging, perfectly paced, captivating fantasy romance.
I would go as far as to say A Kingdom of Stars and Shadows is one of my favorite books of the year. In fact, if this series keeps moving in the direction it is now, it might just become one of my top fantasy series of all time. I know that's high praise, but with how much I enjoyed this read, it deserves it!
AKOSAS is the author's first foray into this subgenre, but if I didn't know beforehand, I would have never guessed. Her world building is so well done and easily digestible. All the information we need is delivered to us naturally in bite-sized pieces that don't bog you down and overwhelm you. There is no lengthy info dumps to be found here, and I seriously fucking appreciated that.
Fae, vampires, royalty, magic, political intrigue, arranged marriage, forbidden romance, a swoonworthy hero, a Starblessed heroine, scorching hot sexual tension, violence, and a healthy dose of steam, this book has it all! From the moment I picked it up, I was hooked, and I only became more enraptured as the story went on. It delivers in every single way. The plot, the characters, the romance, the world, literally everything about it gets an A plus from me!
Above all, A Kingdom of Stars and Shadows is just a damn good time! It's interesting, entertaining, sexy, enchanting, intriguing, and exciting. Adara and Everyn are EVERYTHING! Their banter gave me life. Every interaction between them is like foreplay, and the sexual tension pouring off the page is so intense you can FEEL it down to your toes.
Even if everything else about this story was mediocre, Everyn would make it a masterpiece! His one liners alone deserve 5 stars. This man had me fanning myself as soon as he was introduced! If you know me, you know it's hard to earn a spot in my fantasy harem, but Everyn reserved one almost immediately. He's strong, hot, sarcastic, powerful, playful, a little bit of an asshole (my kryptonite), half motherfucking vampire, and as skilled on the battlefield as he is in the bedroom. The way he is enamored with Adara and the things he says to her will have you full on swooning and damn near panting the whole way through the book. I'm talking turn up the air-conditioning and put an ice pack in your panties, y'all!
I'm going to shut up now, because I could talk about this book all day. I love it so much I can't put it into words. This review doesn't even do it justice. You need to read it and experience this incredible story for yourself!
AVAILABLE NOW!!!
About the Author:
USA Today Bestselling author, Holly Renee brings readers a pinch of angst, an indulgence of heat, and the perfect amount of heart in every book.
Born and raised in East Tennessee, she is a married mom of two wild children. When she's not writing, you can find her reading, pretending to be a dragon for the hundredth time that day, being disgustingly in love with her husband, or chilling in the middle of the lake with her sunglasses and a float.
Holly is a lover of all things romance, Mexican food, Harry Potter, and yoga pants.
Website: https://www.authorhollyrenee.com
NL Signup: https://bit.ly/3jm5a83
Facebook: https://bit.ly/3Cfk6xt
FB Readers group: https://bit.ly/37kgiNb
Amazon: https://amzn.to/2VxNPkE
Instagram: https://bit.ly/2Vn6kIh
TikTok: https://www.tiktok.com/t/ZTRNM8A59/