🖤🖤 ℍ𝕆𝕋 ℕ𝔼𝕎 ℝ𝔼𝕃𝔼𝔸𝕊𝔼 🖤🖤
𝐌𝐲 𝐖𝐢𝐜𝐤𝐞𝐝 𝐇𝐞𝐚𝐫𝐭, 𝐖𝐢𝐜𝐤𝐞𝐝 𝐏𝐨𝐢𝐬𝐨𝐧 𝐁𝐨𝐨𝐤 𝟐, 𝐛𝐲 𝐔𝐒𝐀 𝐓𝐨𝐝𝐚𝐲 𝐁𝐞𝐬𝐭𝐬𝐞𝐥𝐥𝐢𝐧𝐠 𝐚𝐮𝐭𝐡𝐨𝐫, 𝐓.𝐋. 𝐒𝐦𝐢𝐭𝐡 𝐢𝐬 𝐋𝐈𝐕𝐄!
#𝟏-𝐜𝐥𝐢𝐜𝐤 𝐭𝐨𝐝𝐚𝐲!
BLURB
He's a convict.
I am the prized daughter of a family known for their name.
We always knew it couldn't work, but that didn't mean we wouldn't try.
But when we did, it was all torn apart.
He was locked away.
And I was helpless to stop the mass destruction that followed.
He was wicked to my heart.
And just like poison, the effects can be dangerous.
PURCHASE LINKS
Apple ➜
https://apple.co/2GX0mqG
Amazon ➜
https://amzn.to/2GUczwe
Amazon Aus ➜
https://amzn.to/36qZiUK
Amazon UK ➜
https://amzn.to/3kqRc3t
B&N ➜
http://bit.ly/35cA1xV
KOBO ➜
http://bit.ly/2LOdCjF
GR ➜https://bit.ly/2Uj0Ydr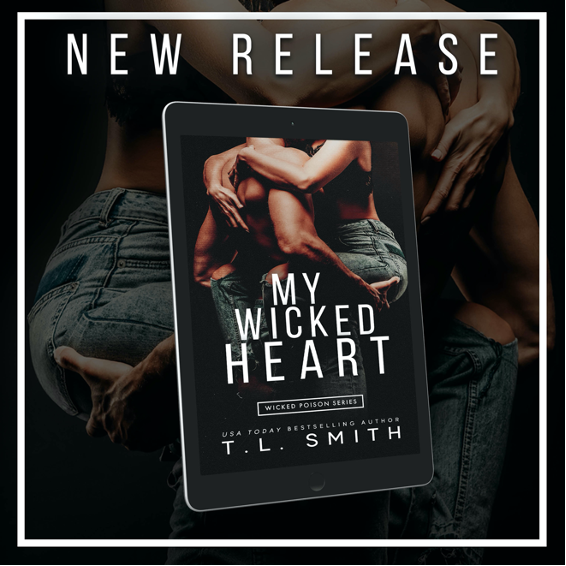 My Wicked Heart
wasted no time getting right back into the swing of things. With a cliffhanger in
My Beautiful Poison
that was heartburn worthy inducing, I needed answers and I needed them now. These were two people who were from the opposite side in every way and somehow, they managed to find each other, create a bond, fall in love and be awakened by secrets and tragedy that would change them both.
I have been not so patiently for this book to come out and when I tell you that my excitement level was through the roof on this one, believe me it was. That all changed when I got to the half way mark and my feelings started to dwindle a bit but that was nothing compared to the "wtf did you really go there"? moment I experienced after.
First and foremost I have to say that regardless of how I felt about the twist that was included in this story, this author did one hell of a job with her characters. I loved almost all of them and I really liked Rylee as a female heroine and her family. She was strong when she needed to be most of the time, extremely protective, and she told you exactly how she felt. The problem that I had with this story was the plot twist that literally felt like someone punched me in the gut.
I love a good plot twist especially one that I didn't see coming but this one right here? was a huge no no. It made me dislike a character that I had so much love for in the beginning and I just couldn't wrap my brain around these new turn of events. I was pissed and quite frankly, disappointed. I also wished that we would have gotten to explore more about August's past as well. There is no doubt in my mind that if that situation was avoided, I would have enjoyed this book a lot more but sadly that was not the case.
I know a lot of people are excited to read the conclusion to Rylee and August's story and even though certain things didn't work for me, I truly think that they're still going to love not only seeing this couple in a somewhat new setting, but also feel the familiarity that they bring.
ABOUT THE AUTHOR
USA Today Best Selling Author T.L. Smith loves to write her characters with flaws so beautiful and dark you can't turn away. Her books have been translated into several languages. If you don't catch up with her in her home state of Queensland, Australia you can usually find her travelling the world, either sitting on a beach in Bali or exploring Alcatraz in San Francisco or walking the streets of New York.
AUTHOR LINKS
FB Page
|
Instagram
|
BookBub
|
Reader Group
|
Amazon
|
Newsletter sign up
Text Club:
Text TLSmith to 312-728-8217 (US only for new releases of mine)