Today we are celebrating the release of the first book in The Truth Duet by Aly Martinez. The Truth About Lies is now live and part of KindleUnlimited! The second title in the duet, The Truth About Us, will be releasing on September 13th! You can pre-order it from Amazon now.
PURCHASE THE TRUTH ABOUT LIES NOW:
The Truth About Lies (The Truth Duet, #1)
Synopsis:
Truth: From over a thousand miles away, I watched on the screen of my phone as two men murdered my wife. And I was helpless to save her.
Consumed by hate and rage, I spent four years running from my memories.
Until a shattered woman gave me a reason to stop.
Cora lived in a nightmare, but through sheer force of will, she'd turned it into something beautiful. She had a smile that could pierce the darkest soul. And with one glance, she shredded mine.
Lie: I was only there for a fresh start.
Lie: I had no idea what I was getting myself into.
Lie: There was nothing I could do to save her, either.
But that's the thing about lies—you never know who to believe.
AVAILABLE NOW:
Holy shiiit!!
Now I know why Aly Martinez is the queen of duets! I'm still reeling from the shocking twists and ending that I never saw coming which is unheard of for me. Shocked is an understatement and right now, I few like making a deal with the devil himself just to get a sneak peek into the next book. How can anyone find the ability to concentrate and try to move on after reading a ending like this?!
From the moment you read the prologue, your heart starts to beat furiously and you think to yourself, if this is the prologue, then you're well and truly fucked for the duration of the story. Little did I know, this was a well thought out intricate web of truth and lies plan that brought two broken people together. Cora was not your average woman who's life was perfect and simple. For years she's been a part of this life that seems to suck the light out of her more and more everyday but if it's one thing about this girl, it's that she's a fighter. Another day she gets to wake up is a win for her because that means that there is someone who can take care of business and protect the ones she cares about. In her world, there is no room for the weak and that's a lesson she had to learn the hard way.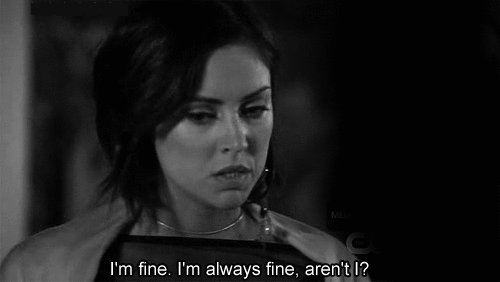 One in. one out.
Penn Walker has been though his fair share of trauma and heartache. Time has not been his friend for the past four years and neither has the haunting memories that has kept up at night. Looking for a distraction and fresh start, Penn and his brother become a fixture for a woman and her business that desperately needs the help. But unbeknownst to some, there are truth and lies everywhere with this union and new found friendship. With so much at stake, will Penn and Cora survive the web of lies?
I really enjoyed this one and I loved the fact that it was different from the usual writing from Aly Martinez. We had two characters who had been through so much and still managed to have a piece of themselves. They were strong, fierce, protective, and once you became someone they cared about, they moved heaven and earth to make sure you were safe. It took me a while to get into this one if I'm being completely honest, but once I reached the half way mark, things started to pick up a lot and those twists and turns started coming out of nowhere and I loved that!
If you're looking for a sexy, intriguing story, then you should try this one.

----------------------
Want to pre-order the next book in the duet?
THE TRUTH ABOUT US (The Truth Duet, #2)
Coming September 13
---------------------
AUTHOR INFORMATION:
Originally from Savannah, Georgia, USA Today bestselling author Aly Martinez now lives in South Carolina with her four young children.
Never one to take herself too seriously, she enjoys cheap wine, mystery leggings, and baked feta. It should be known, however, that she hates pizza and ice cream, almost as much as writing her bio in the third person.
She passes what little free time she has reading anything and everything she can get her hands on, preferably with a super-sized tumbler of wine by her side.
AUTHOR LINKS: