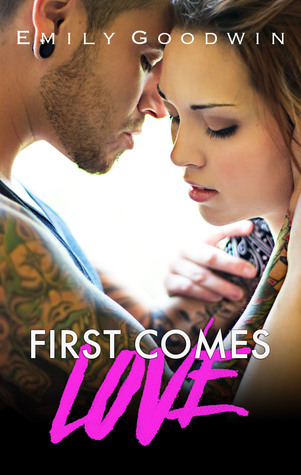 Then comes a—
Hold up. You're joking right? As if life works off a neat little list like that, moving down, checking things off before jumping to the next task. We're not married. We're not lovers. Hell, we're hardly even friends. Noah Wilson isn't exactly "life partner" material, and he sure as hell isn't "father material". He's my older brother's best friend, and has been off limits, sworn off, locked in the highest tower and out of reach since we met over ten years ago. With his devilish good looks, tattoos, motorcycle, and trail of broken hearts and tears, I've had good reason to stay away from the bad boy my mother warned me about.
Until one night. One stupid, regrettable night that changed both of our lives forever. And now I only have nine months to decide our fate, to see if Noah's rebel heart is capable of anything more than a one night stand.
This isn't a love story. This is a life story. And life doesn't go according to plan.
♥♥♥♥4 Stars♥♥♥♥
This was a really sweet and enjoyable read and I'm surprised that I liked it so much. These characters were funny,charming and oh so hot!Noah and Lauten made a bad situation turn into a joyous and loving life's journey that was very relatable.
"They say you can't change someone, but someone can change for you".
Lauren is an vet tech who dreams about being a veterinarian. She loves animals and will do anything to help them. Her love life on the other hand,sucks. From one disastrous date after another, she hasn't been lucky in finding a good guy. Running into her her former high school crush and her brother's best friend will change all of that.
One drunken night.
A forbidden hookup.
One life changing event.
Noah is not a perfect man. He drinks on occasion,screws random chicks when he feels like it, and lusts after his best friend's sister. Being a well known photographer,his life is financially stable but his past is not. Seeing Lauren again has made all of his desire and list that's been buried for all these years come back in full swing. He wants her and this time he's not letting her go. But little does he know, fate has has already intervened and these two will be bonded for life.
"There is not a single woman in the world I've wanted more than Lauren Winters.
Not a single woman in the world is more off limits than her".
I really liked the premise of this story. I found it entertaining and the humor part of it felt effortless. Noah and Lauren made the best out of their situaton and found an love that they were both searching for. Everything wasn't perfect all the time and I liked that. These characters were flawed but very relatable and I enjoyed this one.