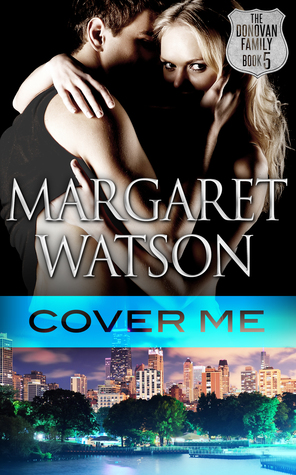 Blurb:
Chicago cop Brendan Donovan loves the adrenaline rush of his role on a tactical team. So when he's assigned to an undercover job to ferret out the supplier of a new and deadly sex drug, he's thrilled. His partner is Cilla Marini, a detective he'd met recently during a traffic stop. He's intrigued by Cilla, but his sister told him that Cilla doesn't date cops. Which is exactly what they have to pretend to do. Brendan loves a challenge.
Cilla is shocked to find out that Brendan is her mystery partner. After an incident that forced her to transfer from her district and isolated her from her fellow cops, Cilla knows relationships with cops are off the table. But she's spent far too much time thinking about Brendan since he pulled her over for speeding. Now, not only are they working together, they have to pose as a couple to find the source of the sex drug that's already killed several men.
As the action heats up, Cilla and Brendan don't have to pretend they want each other. But when secrets put them both in danger, will they have each other's back? Or will their quarry divide and conquer them before they can find their way to happily ever after?




5.0 STUNNINGLY BEAUTIFUL STARS!!!
"A partnership is like a marriage, you know? Sometimes it's the pairs who are the least alike that do the best."
Wow this book! I never really expected this. I was so in awe and I feel like I was so ashamed over something. I mean I felt really left off, If I haven't been given an e.copy I wouldn't know a beautiful story from Margaret Watson existed and that from the fact that I love romance books.What a shame!
Brendan and Cilla is just fun to read. I love these characters. Cilla...this heroine is worth loving. A tough brilliant cop. So cool.I love how bad ass she is but with a soft heart. Her role in their family is so relatable it feels real. I love how she keeps things in order...fixing everything even if it means she wanted the opposite. All she really wants besides a happy career is someone in her life . Someone to come home to at night. Someone to share her burdens with. Someone who could share his burdens with her.Then entered Brendan Donovan,He lived to go undercover. A wild man. Adrenaline junkie. The only Donovan brother still available. A playah. His partner in an undercover op who happened to be that person who will break her rules. Not to date a cop...because her reasons?
They don't make good husbands. They'd rather hang at a bar with their cop buddies than come home to a wife and kids. They cheat.
And Brendan Donovan?
He's 'love 'em and leave 'em Donovan' was legendary. He didn't do 'serious'.
But their chemistry is just so strong.The sexual tension and the attraction is undeniable. Said she's fine with it...but when all hell break loose and secrets unfold..what they have was tested...
"Don't throw away a good thing, Marini, just because you disagree about a few things."
Truly, what I just read is stunningly beautiful. This is my first book of the author but I am in love with her writing skills, the plot, the story line and most of all the characters. I haven't had any dull moments reading Brendan and Cilla's story. This is bad ass!! This is what you call a romance with a twist of suspense and swoon plus steamy overload making your panties soaked but adrenaline rush kept going and your mind kept on solving mysteries and puzzles. Hella perfectly written and mind boggling and at the same time heart leaping and tummy quivering. Wowza factor to the zenith and this from the fact that it's not that heavy of a read. Once you get your hands on it, everything flows smoothly to the fact that time flies by you forget everything because you were pulled into it. Hooked.Invested. Yeah I was like that reading this book.
This is a must read!
*E copy kindly provided in exchange for an honest review*
Margaret Watson is a two-time RITA Finalist with thirty books in print for Harlequin and Silhouette and many other award-winning romantic suspense novels. When not writing, Margaret practices veterinary medicine in the Chicago area.