"A richly nuanced -- and smolderingly clever -- book about letting love shine in places where the past feels bigger than it needs to be. The cast of side characters range from quirky to mysterious, lending tremendous authenticity and depth to a romantic story that is so much more. A one-click must read!" Julia Kent, New York Times and USA Today bestselling author
"A heartbreaking tale of letting go and learning to love again. A jaw-dropping debut novel you have to read." - Helena Newbury, New York Times and USA Today Bestselling Author.
How do you start over when you gave everything to one life, one plan, and lost it all?
Althea refuses to allow herself to love again. Imprisoned in grief at twenty-four after her husband's sudden death, she's convinced her heart died along with him. She spends her days honoring his memory by clinging to the legal career he helped her to build and to the remaining pieces linking her to their life together.
Griffen's been running from his past. Despite success as an author and investigative journalist, he's been traveling through life on autopilot. For a decade, he's chosen perilous adventures and meaningless sex over the danger of any attachments. When he finally returns home to Pittsburgh, he's slammed by the awakened memories and regret he's spent years trying to escape.
A chance encounter brings them together. Their instant desire for each other –and the bond they discover between them – shocks them both. Despite her best efforts, Althea can't resist Griffen's charm or his intriguing proposition– if she agrees to a no-strings affair with him for the two weeks he's in town, he swears he'll walk away when their time is up. Assured she can test the waters of a new life while keeping her vow never to betray her husband's memory by opening her heart to another, Althea throws herself into the escape Griffen provides her.
Their perfect plans go awry when the intensity of their connection overwhelms them. Will they risk it all on the chance of something great together…or will the power of their secrets and guilt tear them apart?
4.0 GORGEOUS STARS!!
"Don't you want to fall in love again?" Jenna asked carefully. "No, I don't," Althea answered. "Having a relationship? Loving someone? It's just wrong after what Jack and I shared." I already had my 'happily ever after,' my 'love of my life.' I don't get another. That's not how it works. There's a reason those terms are so final sounding, it's because they are.
"
Three Rivers is a heart wrenching story about losing someone you love...finding it and then finally moving on that follows the story of Althea Taylor - a single mother who lost his husband... the center of her universe in a car accident. Afraid to fall in love again....With friends who consistently encouraged her to finally start living life just for a night with no strings, she met Nicholas Griffen Tate --- a successful author and investigative journalist who has been traveling through life on autopilot ...... her supposed to be one night stand who she later found out her late husband's BFF since they were little...
So, this book really captivates me from beginning til the end and I so damn hate it that I've only known and read this book now and not soon considering it was published almost a year ago, because this book is more than just your average romance story where girl meets boy and then bam! HAPPILY EVER AFTER.
What actually amazed me is that transition point that I did not expect that makes this story even more interesting and page turner aside from the fact that the story itself is worth reading. The plot...the romance...the so damn hot sex scenes that would definitely makes you wet and that mystery I haven't realized was there was artfully and beautifully written. The description of the scenes were so vivid like you were there when it happened. I so loved also the secondary characters like wow! The friends' and families role in the book is so strong and added more color to the story that jut blended so well. What was depicted in the book was more than just a love story because there lies family ties and bonds...friendship that never ends..and of course that second chance of love despite all.
Overall, this story is so great.The author did so well and to think this is her debut novel.
Kudos to the author because Three Rivers is highly recommended.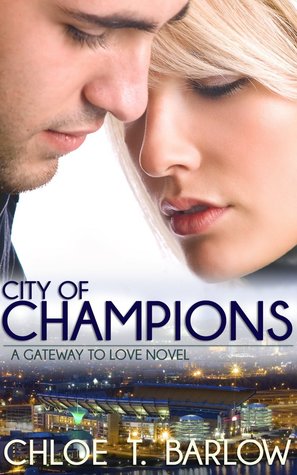 Website
Twitter
Genre
URL
https://www.goodreads.com/ChloeBarlow