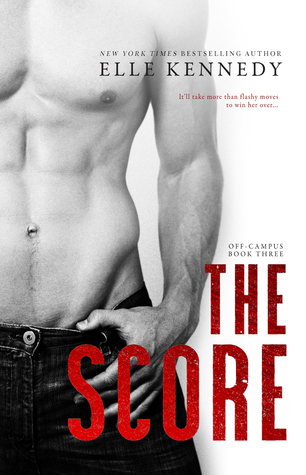 He knows how to score, on and off the ice
Allie Hayes is in crisis mode. With graduation looming, she still doesn't have the first clue about what she's going to do after college. To make matters worse, she's nursing a broken heart thanks to the end of her longtime relationship. Wild rebound sex is definitely not the solution to her problems, but gorgeous hockey star Dean Di-Laurentis is impossible to resist. Just once, though, because even if her future is uncertain, it sure as heck won't include the king of one-night stands.
It'll take more than flashy moves to win her over
Dean always gets what he wants. Girls, grades, girls, recognition, girls…he's a ladies man, all right, and he's yet to meet a woman who's immune to his charms. Until Allie. For one night, the feisty blonde rocked his entire world—and now she wants to be friends? Nope. It's not over until he says it's over. Dean is in full-on pursuit, but when life-rocking changes strike, he starts to wonder if maybe it's time to stop focusing on scoring…and shoot for love.
★★★★4 Stars★★★★
When I read the first book in the series "The Deal", I thought for sure that no one is going to top Garrett and make me love them. I have to say that Dean definitely
gave him a run for his money and I'm utterly torn with who I love more. This book had everything had that you love in a NA novel and I'm happy that I stuck with this series because this is my favorite one so far.
Allie has broken up with her boyfriend for the millionth time and she's finally putting her foot down. She knows that her relationship isn't going to last again if she takes back her boyfriend but she has a soft spot for him. Deciding to ignore him and hideout for the weekend, she agrees to stay at her bestfriend's boyfriend's place. She won't be the only one there and its up to Dean Di Laurentis to babysit and distract her from giving in to calling her ex.
"Dean Di Laurens oozes sexuality. He slap his face on a laxative label and every woman in the world would be praying for constipation just to have an excuse to buy it."
Dean Di Laurentis is a MANWHORE. Ladies I'm not kidding with this guy. I think he invented the freakin word just for him and he makes no apologies for it. He loves women and women love him. Doing what he does best,he gets interrupted
with an unexpected visitor at his door step and learns that he has to play babysitter and entertain Allie for the weekend. Easier said than done right? Wrong! What happens when you drink tequila? Hot,dirty,filthy,things happen that's what.
"I like to fuck. I fuck alot. So sue me."
What started off a one time thing turned into genuine romance that showed growth,heartache,sexiness and ultimately love. I liked the fact that these two took their time with each other and got to know one another.
I LOVED Dean. He was the epitome of a lovable manwhore but there was just so much more to this man. He was smart,funny,engaging and when he loved? He did it wholeheartedly and without reservation. Allie was a lovable heroine. She was strong,witty and she knew what she wanted.
My only complaint is that I would've
liked to see everyone in the future. I hope the author writes a novella or an extended epilogue.I can't say enough about these two but if you haven't read this series yet,please start now. Until then, I'll just be over here in a corner patiently waiting for Tucker's book.
Elle Kennedy
Goodreads Author
Website
Twitter
Genre
URL
https://www.goodreads.com/ElleKennedy