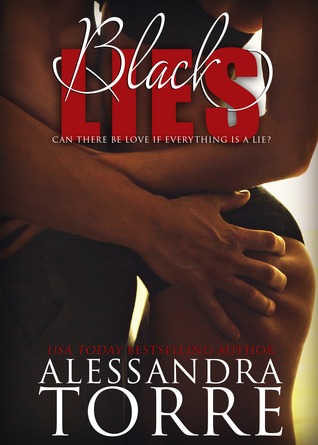 Brant:
Became a tech billionaire by his twentieth birthday. Has been in a relationship with me for 3 years.
Has proposed 4 times. Been rejected 4 times.
Lee:
Cuts grass when he's not banging housewives. Good with his hands, his mouth, and his cock. Has been pursued relentlessly by me for almost 2 years, whether he knows it or not.
Go ahead. Judge me. You have no idea what my love entails.

If you think you've heard this story before, trust me – you haven't

.
Black Lies is captivating, mysterious and sexy as hell, but the most amazing part is that it has s
uch and innovative and genius plot twist
. It was s
o unique and imaginative. It will hit you so hard you won't even see it coming.
The way the story was written makes it an even richer experience. The story starts in the present, but there are flashbacks throughout the book that slowly hint at the secret all of the characters are hiding.
Eventually, you find out the big twist and everything lines up. Evething makes sense.
"True love makes a person reckless, makes them take risks and make sacrifices. True love tests the boundaries of our person, makes us yearn to be better and fight for the ground we stand on. I will fight for this love. Lie for it. Steal for it. It's worthy of that."
Lana is a complex character. She is three-dimentional. You hate her, you love her.
She's selfish.
She's selfless.
She's loyal.
She's a cheater.
You understand her, you despise her. You want her to be happy, you want her to rot in hell for being such a bitch. You end up hurting for her. You want her to get her HEA because SHE DESERVES IT. Specially after everything she's been through.
"I don't love you despite this. I love you, including this. Every part of you, even parts you don't know."
Alessandra Torre knows how to write steam. IT WAS SO SEXY. Both men in the book are so different, but both claimed a part of my heart.
"My journey in this relationship hasn't been as difficult as hers, but there were times I struggled. Thank God I didn't walk away when I suspected an affair. Thank God my heart kept an iron grip on her and wouldn't let me move. The frustration, the unknowing, the jealousy… it was grueling, but reinforced one of the first things I said to Lana: 'It was worth it as soon as I saw you'.
And it was. It was more than worth it. It was the start of my life, the day my heart started beating.
I love this woman. I will always love her, as will every part of my soul."