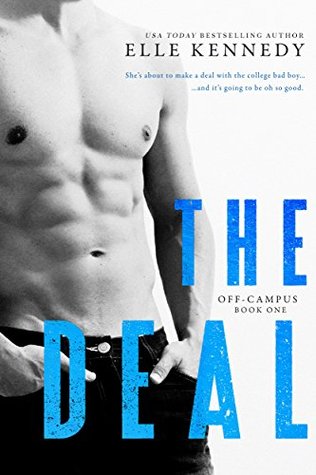 She's about to make a deal with the college bad boy...
Hannah Wells has finally found someone who turns her on. But while she might be confident in every other area of her life, she's carting around a full set of baggage when it comes to sex and seduction. If she wants to get her crush's attention, she'll have to step out of her comfort zone and make him take notice…even if it means tutoring the annoying, childish, cocky captain of the hockey team in exchange for a pretend date.
...and it's going to be oh so good.
All Garrett Graham has ever wanted is to play professional hockey after graduation, but his plummeting GPA is threatening everything he's worked so hard for. If helping a sarcastic brunette make another guy jealous will help him secure his position on the team, he's all for it. But when one unexpected kiss leads to the wildest sex of both their lives, it doesn't take long for Garrett to realize that pretend isn't going to cut it. Now he just has to convince Hannah that the man she wants looks a lot like him.
So... the most memorable thing about this book is the slow-building love story. It was nice to see the characters actually fall in love slowly rather than instantly. They didn't even have insta-lust! It takes almost 50% of the book before they kiss and 80% of the book before they declare their love to each other.
"She tries to take a step down the hall, but I tug on her hand and kiss her again, and this time it's not a peck. I kiss her hard, losing myself in her taste and her heat and every damn thing about her. I never expected her. Sometimes people sneak up on you and suddenly you don't know you ever lived without them."
The beginning was actually pretty good! I liked their first sexual encounter. Talk about sexyyyyy! I've never read about two people watching each other as they masturbate, so it was a fresh and innovative scene for me.
There was no slut-shaming or awful stereotypes in the whole book.
Hannah is the one that runs away from Garrett at the beginning, and she's quite smart. She doesn't think she's ugly, she wants to enjoy sex, and SHE REALLY TRIED TO MOVE ON FROM THE TRAUMATIC EVENT IN HER LIFE. She's a REAL heroine. She's someone you might meet, your friend or your sister or you. She's that well developed.
He is a manwhore but he is also clever and sweet.
"It's like that pond I skated on when I was a kid—from a distance, the ice looked so shiny and smooth, until you got close enough to it, and suddenly all the uneven edges and crisscrossed skate marks became visible. That's me, I guess. Covered with skate marks that nobody ever seems to notice."
He knows how people see him (as the dumb slutty jock), and he's observant. He thinks and tries to react accordingly, though he isn't always able to follow his mind before his heart. He's not a dick or an asshole to Hannah in any way, he's just a guy who didn't want to get side-tracked with a girlfriend because he wants to make it to the pros and suddenly finds himself falling in love with his new friend. He's a likeable guy, not creepy or over-the-top jealous.
"Say it," he orders. "Say what?" I use the corner of his blanket to wipe the moisture staining my cheeks. "Say Garrett Graham, you are a sex god. You have achieved what no other man ever has. You—" I punch him in the shoulder. "Oh my God, you're such a jerk. I will never, ever say those words." "Sure you will." He smirks at me. "Once I'm through with you, you'll be shouting those words out from the rooftops."
The writing style was pretty decent and enjoyable. It kept me entertained and the book flowed nicely.
The characters felt real and were really funny. I laughed a lot at the bickering between the main characters and their friends teasing them.
Why not 5 stars?
I didn't like that
at the beginning
Hannah saw Garrett fucking another girl (when they were still friends, though) or that she kissed someone in front of him.
I'd have liked some closure at the end. I felt like it was inconclusive.
Do I recommend this read?