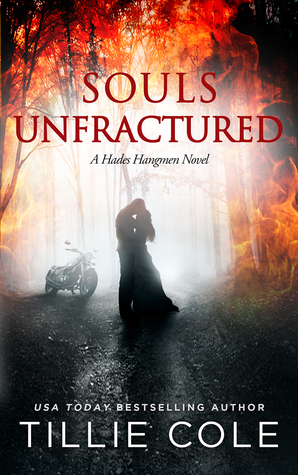 "For fractured souls are like magnets.
Drawn to collide into an impossible bliss…"
Labeled a 'Cursed' woman of Eve from birth, Maddie has endured nothing but pain and repression at the hands of The Order's most abusive elder, Moses. Now living with her sister in The Hangmen's secluded compound, finally, Maddie, is free. Free from the suffocating faith she no longer believes in. Free from endless years of physical and mental torment.
Just… free…
At age twenty-one, the timid and shy Maddie is content to live within the confines of her new home—safe from the outside world, safe from harm and, strangely, protected by the Hangmen's most volatile member; the heavily pierced and tattooed, Flame.
Flame.
The man who ceaselessly watches over her with his midnight dark and searing eyes. The man who protects her with a breath-taking intensity. And the man who stirs something deep within her numbed heart.
But when circumstances conspire for Flame to need HER help, Maddie bravely risks it all for the broken man who has captivated her fragile soul.
The Hangmen's most infamous member, Flame, is ruled by one thing—anger. Plagued by haunting demons from his past, an all-consuming rage, and isolated by an abhorrent hatred of being touched, Flame's days are filled with suffocating darkness, pierced only by a single ray of light—Maddie. The shy, beautiful woman he cannot purge from his thoughts. The woman he has an overwhelming need to possess…
... the only person who has ever been able to touch him.
Flame's mission in life is to protect Maddie, to keep her safe. Until a trigger from his troubled past sends him spiraling into madness, trapping him in the deepest recesses of his disturbed mind.
His Hangmen brothers fear that Flame is beyond saving.
His only hope of salvation: Maddie and her healing light.
TRIGGER WARNING! ABUSE, RAPE, MURDER, SELF-HARM.
Oh my Flame. I'd been waiting for his story for a long time, and it was everything I expected it to be. It was a heart-wrenching, tear-jerking, mind-breaking book. It was a powerful raw story about survival, healing, love and acceptance. It was a story about two people finding the strength they needed, and through each other seeing their own worth. (
BTW, the cover is beautiful and so meaningful. It's perfect.
Now, Maddie was a little warrior. Her character development was amazing, and I love her, but Flame stole the show from the beginning. I'm a sucker for him. You think you know who Flame is, and his motives. You do not. He was a character that grew a little bit more with each page, that touched your soul and never let you go.
"Flame's different. But it don't make him any less fucking important."
He looks like a devil, but he's such a softie inside. He's actually really innocent in his mind, and he's afraid of how the world sees him since he's "different". He puts up all these walls to keep others out because he's been neglected, abused and mistreated his whole childhood, and he doesn't believe anyone would stay for him.
OK, so Flame and Maddie have this strong connection from the beginning, but since I've been feeling this building up from book 1, I didn't think it was insta-love. I adored how they communicated in ways that might seem weird to other people, and how they viewed the world so differently. They needed each other, and their connection came fast, but I bought it! I believed every single line of this book. Their love was so selfless, they sacrificed so much for each other... it was beautiful.
"I know I'm different. I know I don't see the world like everyone else does. But I want to see your world, Maddie. Even if it's the only one I'll ever understand."
The plot is even more original this time around. The twists and turns this series is taking leave me with my mouth hanging open each and every time. This whole novel was messed-up in the best way, it took me up and down and twisted me so much I will never forget it. There were psychological aspects that were handled with such respect and faithfulness that I honestly wanted to hug Tillie Cole and thank her for caring so much and portraying the characters in such a realistic way. And I'm not gonna lie, I'M DYING FOR RIDER'S (Cain's) STORY!!!! He took a little piece of my heart in this book. I understood him a lot more, and the author did a fantastic job making me want his HEA. It's just this thing Tillie does. Each of her "villians" have motives, they are not "just the bad guy". You actually feel compassion towards them. Even her "heroes" are actually anti-heroes, so morally gray you're confused as to why you like them! It's incredible.
I enjoyed the previous books, BUT I LOVE THIS ONE. (And it's a series, that IMO shouldn't be read out of order or as stand-alones, since each book is necessary in the development of the overall storyline.)