🔥🔥 HOT NEW RELEASE 🔥🔥
What happens when the stalker finds his prey?
Obsession, darkness, and madness unravels. All wrapped in intense passion. Rina Kent & Isabella Starling join forces to bring you mayhem! He Hates Me, Book one of the highly anticipated Hate & Love duet is LIVE!
Blurb
Once upon a time, there was a monster.
When the night falls, he comes out to harvest souls.
He's silent and invisible —no one notices when he strikes then retreats to the shadows.
Our paths shouldn't have crossed, but they do.
One day he sees me.
Then he can't unsee me.
Once upon a time, there was a monster, a killer, a devil.
My stalker.
He Hates Me is part of a duet and is NOT standalone. The entire duet will be released two weeks apart.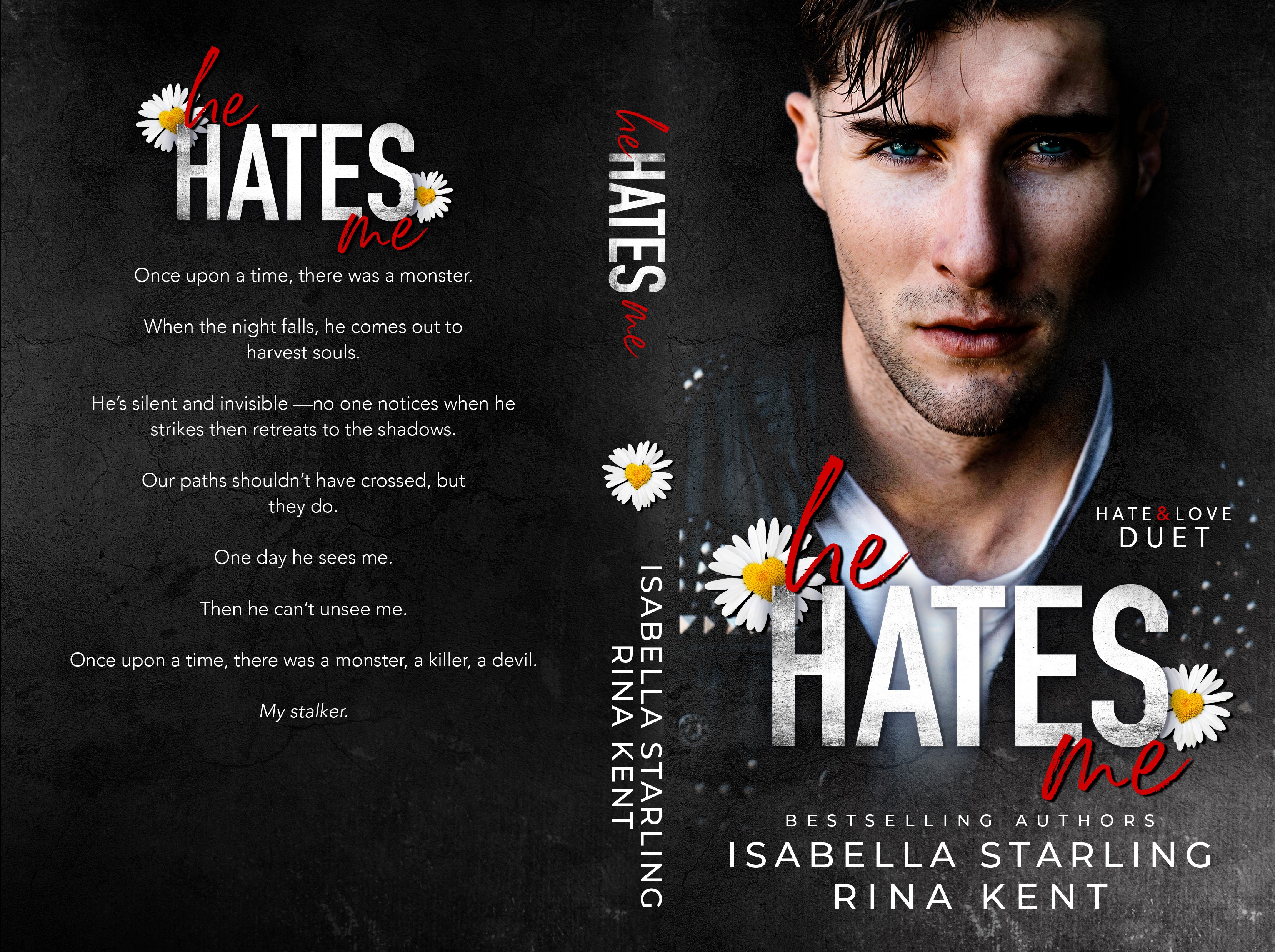 PURCHASE LINKS
AMAZON US ➜
https://amzn.to/2Po7Bce
AMAZON UK ➜
https://amzn.to/2TrWdNV
INTERNATIONAL ➜
https://smarturl.it/HHMBuy
ADD TO GOODREADS ➜
http://bit.ly/HHM-GR
PRE-ORDER HE HATES ME NOT:
He Hates Me Not, the conclusion of Love & Hate Duet is releasing on April 23rd. Pre-order today!
AMAZON US ➜
https://amzn.to/37VVMAA
AMAZON UK ➜
https://amzn.to/2SY3rKj
INTERNATIONAL ➜
https://smarturl.it/HHMNBuy
ADD TO GOODREADS ➜
http://bit.ly/HHMN-GR
GIVEAWAY:
To celebrate the release of He Hates Me, Isabella Starling and Rina Kent are giving away a $25 Amazon Gift Card. Head to Rina's Facebook page to enter:
https://www.facebook.com/rinaakent/
What in the Blue Grass did I just read??????? I'm not sure if it's because I haven't read a dark book like this in a long time but….. shocked is not even the type of word that I want to put in to my vocabulary right now. Ya'll ….. these characters were messed up!!!
After doing a big exhale and trying to articulate exactly what I want to say in this review, I still freakin can't so I deeply apologize in advance if this review is all over the place.
He Hates Me
is not your ordinary cookie cutter read and I feel like I have to say that first. We have two characters who from the outside are completely polar opposites to each other but once you get down to the nitty gritty, they are one in the same in so many ways.
Georgina lives a very boring simple life and when asked, she will say that she prefers it that way. With a stressful job as an ER nurse, her idea of relaxing after a long day of work is coming home to her two cats and having a nice bath. Simple. Quiet. Peaceful. But what Georgina is about to find out is that danger is lurking around the corner in the form of a man who is going to give her everything she's ever wanted and more. But at what cost?
"Being liked doesn't get the job done.

Fear does".
Jasper Cain is a man of few words and he lets his actions do all of the talking. Being a hitman for one of the most dangerous crime family, he knows exactly how to survive in any situation and get the job done. When he sees the beautiful nurse for the first time, he adds something else to his job description that he never saw coming. STALKER. How will Jasper's new obsession end for a woman he knows deep down he can never keep?
I freakin loved that this book was dark and it never glossed over the gory parts. The writing was almost flawless when it came to that and I think that dark romance fans will not only appreciate it, they will love it and try to savor it as much as possible. The problem I had with this book was the excessive amount of sex scenes. I feel like that took away a good portion of the plot and when things were finally starting to get suspenseful and downright action packed, we were hit with a cliffhanger. I needed more of a storyline and less sex if I'm being honest.
Now what I did enjoy was the plot twist. I didn't see that one coming and I loved that we were hit with the element of surprise. With these new secrets that were unfolded, there is so much that can happen in book two and I'm excited and so anxious to see how these authors are going to put everything together.
If you're a fan of dark fucked up reads, then this is your book!!!
Please note: This book does end on a cliffhanger and it is extremely dark.
ABOUT THE AUTHORS
Dark, dirty and taboo is what Isabella Starling is known for.
An Amazon top 25 bestselling Author, Isabella has 10 books under her belt in under a year. She is a self-proclaimed Tumblr gif addict and always looking for her next forbidden story.
If you pick up a Starling book, you can count on a bad-mouthed, bossy man who will dominate his woman with a rough hand.
Add just a sprinkle of taboo, a touch of BDSM and a pinch of suspense, and you're all set for a story you won't forget.
Rina Kent is an international bestselling author of everything enemies to lovers romance.
Darkness is her playground, suspense is her best friend, and twists are her brain's food. However, she likes to think she's a romantic at heart in some way, so don't kill her hopes just yet.
Her heroes are anti-heroes and villains because she was always the weirdo who fell in love with the guys no one roots for. Her books are sprinkled with a touch of mystery, a healthy dose of angst, a pinch of violence, and lots of intense passion.
Rina spends her private days in a peaceful town in North Africa daydreaming about the next plot idea or laughing like an evil mastermind when those ideas come together.
Don't forget to Sign up to Rina Kent's
Newsletter
for news about future releases and an exclusive gift.
AUTHOR LINKS
Isabella Starling Social Media:
Facebook Page:
https://www.facebook.com/authorisabellastarling
Facebook Profile:
https://www.facebook.com/isastarling
Facebook Group:
https://www.facebook.com/groups/goodgirlslovebadboys/
Twitter:
https://twitter.com/authorstarling
Instagram:
https://www.instagram.com/authorisabellastarling/
BookBub:
https://www.bookbub.com/profile/isabella-starling
Amazon:
https://www.amazon.com/Isabella-Starling/e/B01HK6XGZW/
Book+Main:
https://bookandmainbites.com/users/45
Goodreads:
https://www.goodreads.com/author/show/15291934.Isabella_Starling
Newsletter:
http://www.subscribepage.com/isabellastarling
Rina Kent Social Media:
Website:
https://rinakent.com/
Newsletter:
https://www.subscribepage.com/rinakent
Bookbub:
http://bit.ly/rina-bookbub
Instagram:
http://bit.ly/RinaIG
Facebook:
http://bit.ly/RinaFCB
Exclusive Facebook Group:
http://bit.ly/RinaGroup
Twitter:
http://bit.ly/RinaTwitter
Pinterest:
http://bit.ly/RinaPinterest
Goodreads:
http://bit.ly/rina-goodreads