Pretty Venom by Ella Fields
Series:
Gray Springs University #3
Publication Date: August 3rd, 2018
Genre: Contemporary Romance
Synopsis:
Callum Welsh perfected the art of hating me when we were two kids who believed we'd be forced into marriage.
He thought I wanted it, but my only wish had been for him to leave me alone.
Then one afternoon, he stole my first kiss.
Despite all he'd done, everything changed after that.
As the years passed, our hearts thawed, and he no longer hated me.
In fact, he loved me enough to make me his wife.
Until I ruined everything with one stupid mistake.
That hatred returned in the form of cruel words and even crueler deeds.
But we weren't kids anymore.
I could handle his brand of venom.
He would be mine again, even if it cost me the remains of my heart.
Warning:
contains cheating and an anti-hero who might make you throw your kindle.
Read Today!
FREE in Kindle Unlimited
"Love was magic. Capable of making you believe the most impossible was always possible. But it wouldn't hold two people together, no matter how fiercely they felt for one another".
Every time I start an Ella Fields book, two things happen to me. I breathe a sigh of relief for finally having it in my hands and then slowly but surely, I start to get nervous. It's not a question of whether the story is going to be good because you know for a fact that it is, my anxiety comes from knowing that at some point or another, my heart is going to break along with these characters. So many times as we're reading along, we want nothing more than to feel the emotions as the characters and have it bleed though the pages as if they we our own and I can safely say, that this has happened. I thought I knew what I was getting myself into when started the first chapter but I had NO idea the journey and self discovery that I was going to be led on.
You know the saying you can't help who you fall in love with? Well that quote has never been more true for Callum and Renee. Sworn enemies from their very first meeting, it was obvious that these two needed a referee in their presence at all times. Being the most popular guy in school, girls throwing themselves at his feet, it's no wonder Callum Welsh thinks he's the greatest thing since barbeque Pringles. But his ego is about to take a huge hit when the girl in town wants nothing to do with him and as fate would have it, these two are about to be a part of each other's lives permanently.
Moving to a new town would be stressful for anyone and for a young teenager like Renee, this was no different. Thankfully with two loving parents by her side and anything she wishes to her heart's desire, settling in to a new school should be a breeze. That is until she sees the one guy who goes out of his way to annoy her and if there's one thing about Renee, she doesn't bend easily. With a few years gone by and their hate dwindled down to passionate love, life for Callum and Renee has never looked better. Or so they thought….
I'm not even going to lie and tell you that these characters were perfect because they were not!! They did some pretty fucked up things and at one specific point I said to myself: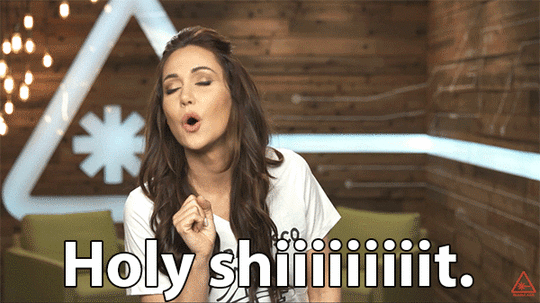 I thought there was no coming back from that one and I was already giving up on administering CPR and just calling the fucking time of death on those two, because the shit that went down?! I needed a stiff drink and a warranty on my tablet! I didn't think it was possible but this author went there and she lit a match on our feelings. I felt like I was going through a messed up emotional rollercoaster that lost it's brakes and now I'm coming back to reality. Pain, anger, happiness, frustration, contentment, you name it, and I'm feeling it in the most exhilarating way.
My favorite thing about this story was watching these characters grow and find their footing. We met them at a younger stage when they didn't really know too much and some would say they were self absorbed and in their own bubble, but I loved that about them and I think the author did a great job at portraying their different personalities only to have them mesh so perfect together. From enemies to lovers , to enemies again, Callum and Renee went through it all and even though it was downright painful at times seeing them hurt each other, I understood their reasoning. I didn't agree with everything they did, but I was glad we got the opportunity to see it from both sides and those pov's meant everything.
If you're looking for a sweet romance that is going to make you swoon and be happy for the duration of the story, this book is NOT for you. If you're looking for hearts and pretty flowers with a hero that comes along with it, turn the fuck around because this is NOT your book!! Now if you're looking to get fucked up with your friend Vodka, have your heart broken, laugh, cry and fall in love with some of the most beautifully flawed and loving characters while plotting bodily harm to them, then this is your book!
Warning: This book contains cheating
Ella Fields is a mother and wife who lives in the land Down Under. While her kids are in school, you might find her talking about her characters and books to her two cats. She's a notorious chocolate and notebook hoarder who enjoys creating hard-won happily ever afters.