KINGDOM FALL by A. Zavarelli
Release Date: November 9th
Genres/Tropes: Dark Mafia Romance
Kingdom Fall is part of the Underworld Kings Universe. A multi-author series of standalone books filled with mafia families waging war, danger and violence, arranged and forced marriages, angst, love, and everything in-between. Light or dark, twisted or sweet, the Underworld Kings has something for every reader.
AVAILABLE NOW!! FREE IN KU!!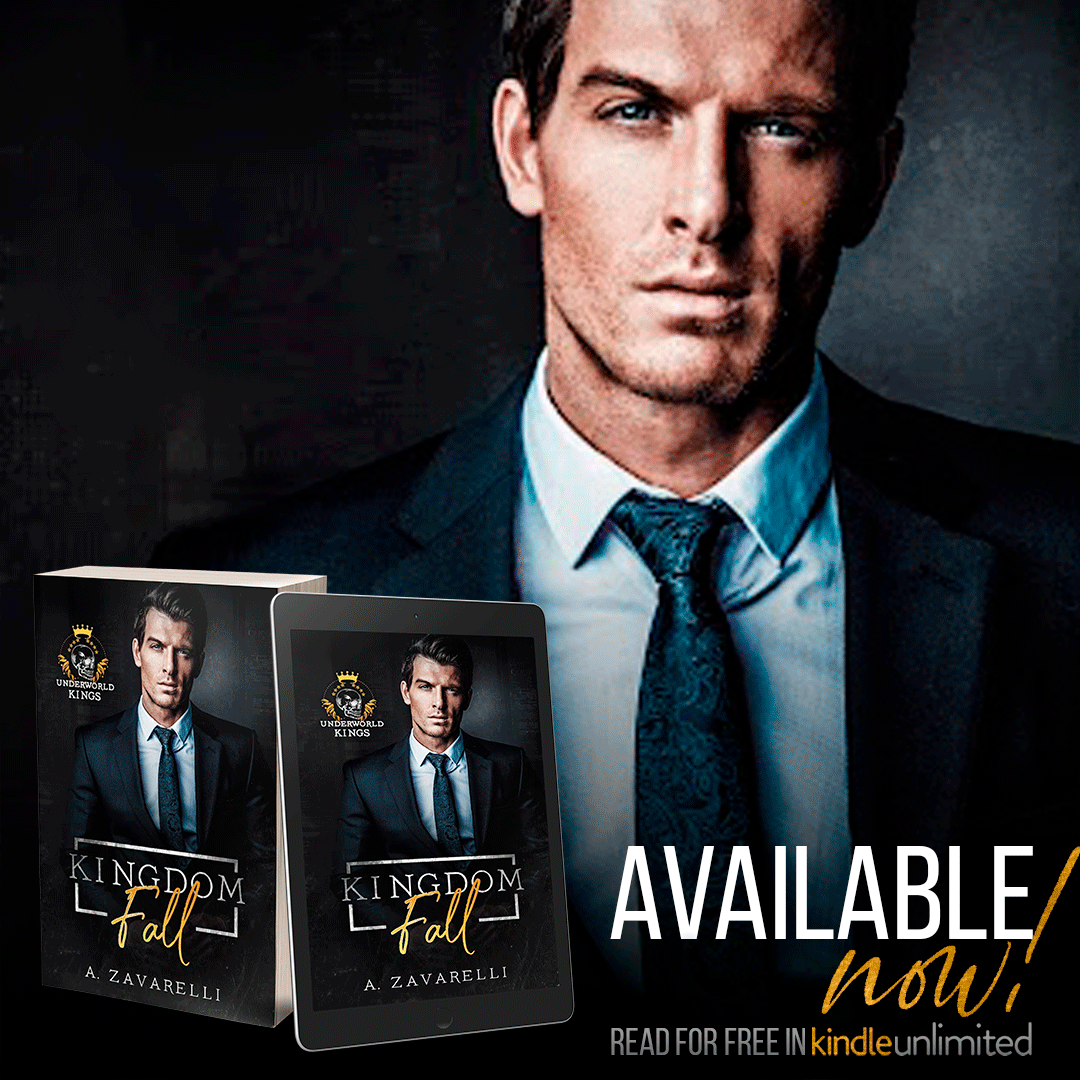 Blurb:
I was a nanny in need of a job.
He was darkness personified.
I had little to call my own.
He was filthy rich, powerful, and dangerous.
The assignment was simple, and my goal was too.
Take care of his son. Keep my head down. When he least expects it, destroy him.
It should have been easy. I thought it would be until I looked into his stark blue eyes.
Kissing the enemy is a bad idea, but so is falling in love with him.
He doesn't know my crumbling foundation is built on lies.
When he discovers the truth, I'll find out if he's as brutal as I believe.
I came here to steal his life.
I didn't count on him stealing my heart.
Kingdom Fall by A. Zavarelli is a complete standalone, but if you've read The Society Trilogy she cowrote with Natasha Knight, then you'll be familiar with IVI and the world this story takes place in. I personally loved those books, so I was pleasantly surprised to see the connection. In fact, I hope there is more to come, because this new addition to the IVI world is every bit as incredible as the last!
Alessio Scarcello, a.k.a. The Debt Collector, needs a nanny to take care of his son, Nino, while he's away on jobs torturing people for information. He doesn't want to hire anyone within IVI, the secret society in which he belongs, because perspective candidates view the position as a precursor to marriage. Instead, he holds interviews and selects Natalia Cabrera, a woman from outside the organization that peaks his interest in more ways than one. Little does he know, she has some ulterior motives of her own.
I fucking loved this book! If you're like me, and hesitant to try standalones in multi-author series, don't let that be a factor in your decision when it comes to this one. Alessio and Natalia's story isn't mediocre in the slightest. A. Zavarelli is an amazing storyteller, and she clearly put her all into this one.
The mystery, suspense, slowburn romance, emotional torment, violence, twists, and turns are nothing short of perfection, but the angsty push and pull, undeniable chemistry, and delicious sex put it over the top! Alessio and Natalia are amazing characters that I won't soon forget. D
on't be surprised if you see this book on my favorites of the year list!
Dark mafia romance and romantic suspense fans, this one's for you!
About A. Zavarelli:
A. Zavarelli is a USA Today and Amazon bestselling author of dark and contemporary romance.
When she's not putting her characters through hell, she can usually be found watching bizarre and twisted documentaries in the name of research.
She currently lives in the Northwest with her lumberjack and an entire brood of fur babies.
Check out more information on the books and authors coming this fall HERE—>